Unghundsklass tikar 1999


Nr. 80 AFFECTION`S MOTHER OF PEARL

DELTOG EJ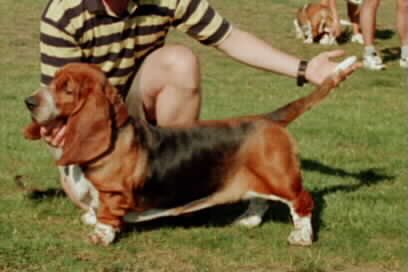 Nr 81 BAZETT'S MARINA
3 Ukl HP
Nice type tricolour, lovely feminine expression, nice deep lip, long leathers,  good reach of neck, neat front, shoulders well tucked in, nice topline,  looks well standing, would prefer a deeper chest, moves well.


Nr 82 Groebas Cleopatra

Flyttad till Juniorklass

Nr 83 LONGLOW'S EXCUSE-ME-IAM-INNOCENT
4 Ukl HP
Long lemon & white, nice feminine expression, good lay back of  shoulder, nice tight feet, good level topline, move with drive, unfortu nalety ribs needs more sprung, a little short for the length of dog.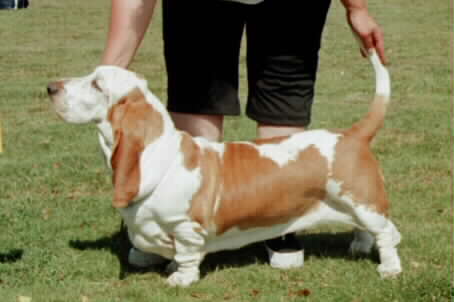 Nr 84 SLEEPWALKER'S CARMEN
5 Ukl
Red & white girl with good bone and well musceled, nice tight front good chest, level topline, nice back end, bitch is well construcyed, could do better if handled properly.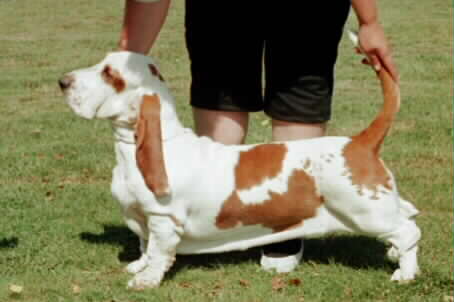 Nr 85 SLEEPWALKER'S CICCI
7 Ukl
Nice type red & white, good chisseled head, good leathers, when standing looks a good breedtype, a little nervous wich made her hard to asses, good on the move, may need time to settle.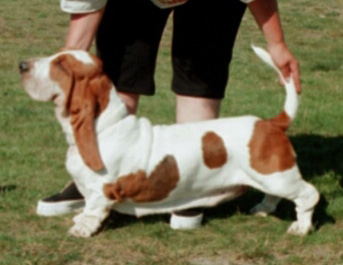 Nr. 86 Sleepwalker´s Clara
2 Ukl HP 5 Btkl
Bitch of nice length, good topline, nice head again chisseled with good occiput and fernishings, liked her chest and front, sound troughout, moved well.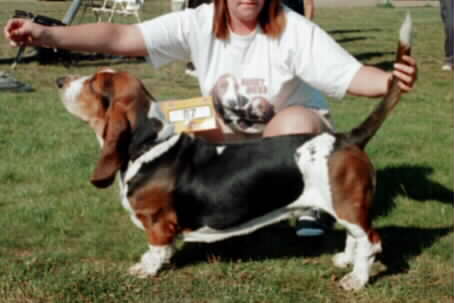 Nr 87 VITA HUNDS AGRIPPA
8 Ukl
Very well presented tricolour, shown in very clean condition and shiny coat, good feminine expression, nice shoulders of good length unfortunately she shows too much daylight underneath and i would prefer a better bend of stifle, quite narrow on the move.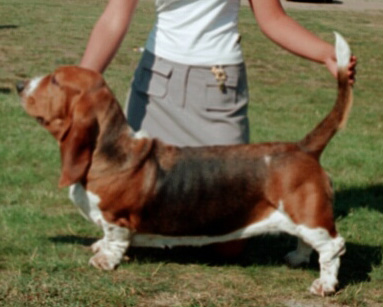 Nr 88 WHITE DYNAMIT´S EBBA HOT STUFF
1 Ukl HP 1 Btkl BIS-2 BIS Unghund
Nice tricolour bitch, very good type, good breed specimen when standing, lovely head, sound troughout, good bone with a good keel, nice length with good tailcarriage, moved very well, locked lovely in the sunshine.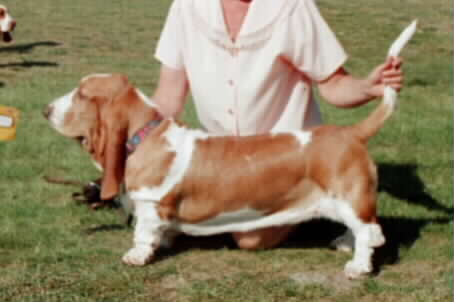 Nr 89 WHITE DYNAMIT'S MOA HARMONI GIRL
9 Ukl
Nice red & white bitch, good length, nice type when standing, unfortunately could not assess her properly due to her backing off. Sorry.

Nr 90 WHITE DYNAMIT'S SELMA ONE AND ONLY
6 Ukl
Nice bitch with well chisseled head feminine expression, good shoulders good ribs, topline tends to rise a little due to long hocks, moved narrow  out and home.