Öppenklass tikar 1999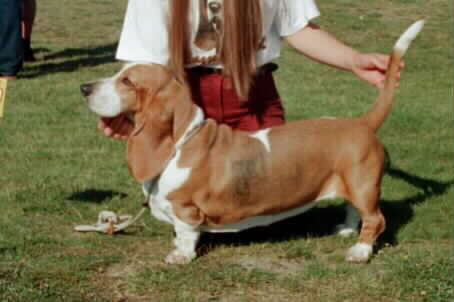 Nr 91 ADATTIS ARDENTE
12 Ökl
Broken tricolour bitch, nice feminine expression would prefer less stop in face, good leathers, nice front, good tight feet, ribcage fine, topline tends to rise due to long hocks, moved ok.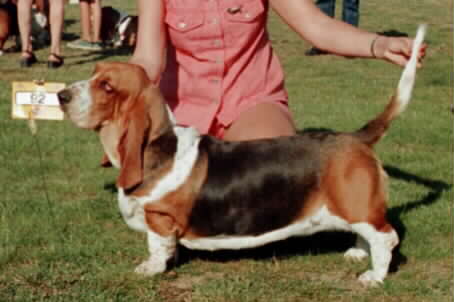 Nr 92 AFFECTION'S LET'S FALL IN LOVE
5 Ökl
Nice type, lovely expression, would prefer better lay back of shoulders which would then enhands the sternum, good length, looks very typy standing, moved narrow going out and wide coming home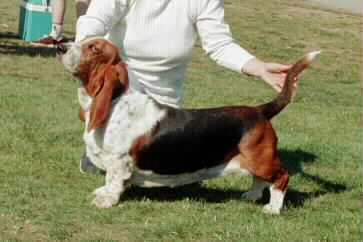 Nr 93 AMORINENS PASSAROSSA
3 Ökl HP
Nice feminine tricolour girl, lovely soft expression, nice head, good reach of neck, well boned and chest makes good front, neat feet, lovely length of ribcage, looked nice on the move true outward and home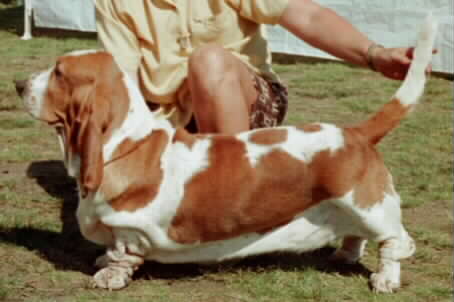 Nr 94 BAZETT'S CLEOPATRA
10 Ökl
Big red & white with plenty of fernishing, nice head, well chisseled good soft feminine expression, ample wrinkels on forlegs, never the less sound in front, nice topline, good back end, would prefer a better rib.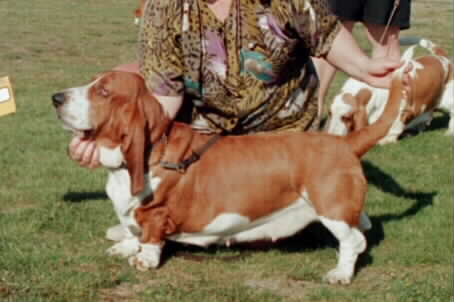 Nr 95 BJÖRKMYRENS BOJAN
15 Ökl
Red blanket with feminine expression, well musculed troughout but a little heavy as well making her look short, topline tends to rise due to long hocks, moved well from the front but close behind.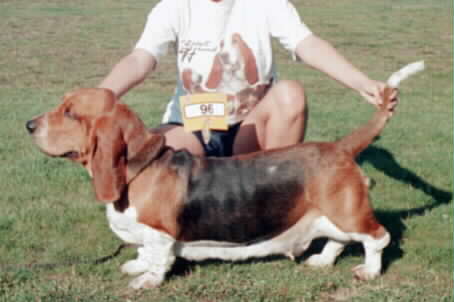 Nr 96 BOGGI'S RYTHM'N BLUES
6 Ökl
Nice type, would prefer little more feminine expression, good reach of neck, front ok, feet needs to tighten, good ribcage, back end tends to rise when standing, moved ok.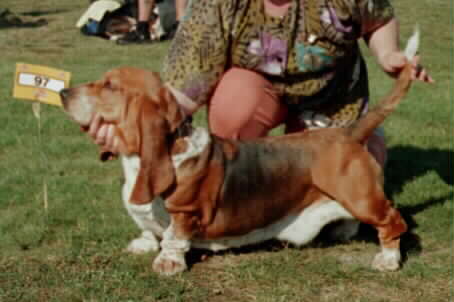 Nr 97 GROEBAS BEATRICE
11 Ökl
Heavy tricolour bitch, would prefer more feminine head and a longer reach of neck, shoulders ok, ribcage fine a little short in length for her size, wpuld prefer more bend of stifle, moved a little wide in front 

Nr 98 SLEEPWALKER'S AUGUSTINA
8 Ökl
Broken tri with nice feminine expression, lovely long leathers turning outwards at bottom, carring a little too much weight,would prefer  shoulders a little further back, good ribcage, neat back end, moved closed from rear, fine from front.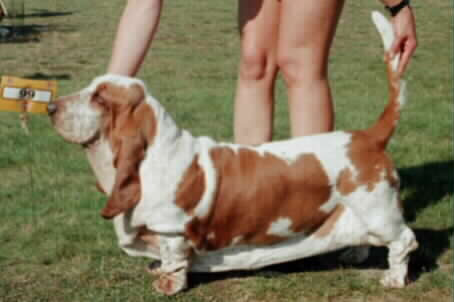 Nr 99 SWEDE SUN'S CLAUDIA
13 Ökl
Heavy red & white a little nervous on the day, very heavy in front, with ample fernishing large barreled ribcage, nice short hocks, good piqture overall for a big girl, moved ok.
Nr 100 TEKLA
16 Ökl
Black blanket of good length, little short in neck which makes her look stuffy, nice tight feet, good ribcage, moved ok, a little to much daylight from underneath.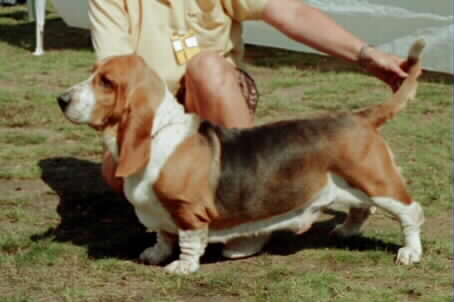 Nr 101 TUFF-TUFFENS ADELE
14 Ökl
Tricolour bitch, good shoulder placement, neat front, neck could be longer, good ribs, neat back end, good bend of stifle, well pouched hocks, would prefer a little more length, unfortunately topline dipped when walking.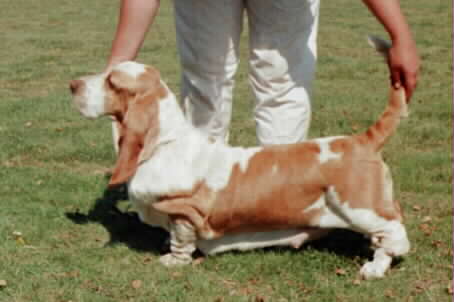 Nr 102 TUFF-TUFFENS ANJA
9 Ökl
Very well furnished red & white bitch, needs to tighten in front, good ribs & topline, would prefer more length, moved wide in front, good back end, nice turn of stifle.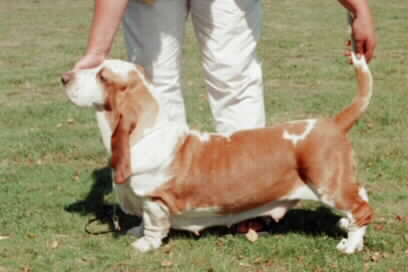 Nr 103 TUFF-TUFFENS ASTRID
2 Ökl, HP
Well constructed red & white bitch, nice expression, good head andneck, nice chest, good front, tight feet, well balanced ribcage with length, look nice standing and on the move, nice piqture ocerall.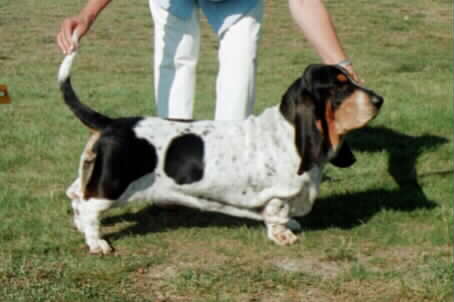 Nr 104 WILDCARD'S GLAD RAGS
7 Ökl
Feminine broken tri, nice muttel on coat, still true, nice leathers pointing outwards, good chest, level topline, moved well.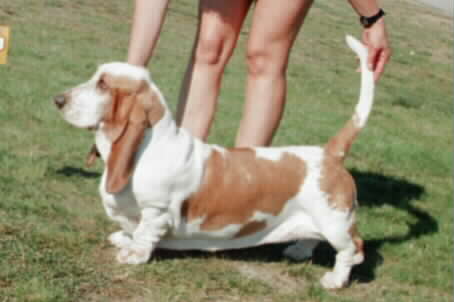 Nr 118 SWEDE SUN'S MIRACLE
1 Ökl HP
Lovely red & white bitch, very nice breedtype, lovely chisseled, feminine head, nice deep chest with straight, tight front, good feet, good rib, nice topline, good back end, moves with drive and enthusiasm dispite the heat.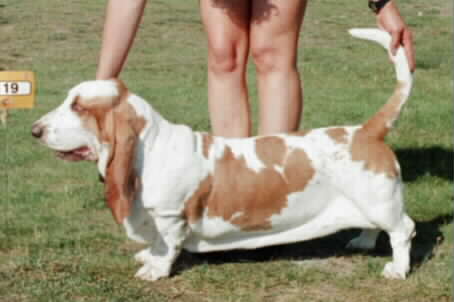 Nr 119 SWEDE SUN'S OTILDA
4 Ökl, HP
Long red & white, nice chisseled head, good reach of neck and keel, shoulders could be more laid back, good ribs, nice length, hocks could be shorter, moved fine.